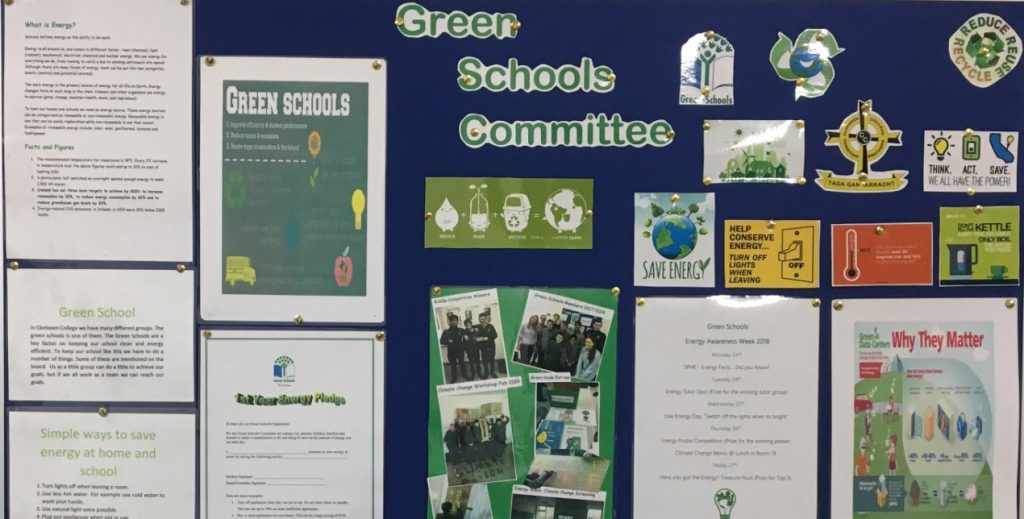 ---
Handy Tips from the Green Schools Team

Check out the files below to get some tips and tricks from the Green Schools Team!
---
What is the Green – Schools?
The Green – Schools programme is one of Ireland's leading environmental
management and award programmes. The programme is co-ordinated by the
Environmental Education unit at An Taisce. Primary and secondary school students
and teachers across the country are widely involved. The programme is student led
and involves various individuals from the wider community. There are several
themes, each one taking a minimum of two years to achieve: Litter & Waste, Energy,
Water, Travel, Biodiversity, Global Citizenship litter and waste and marine
environment.
There are 7 steps involved: forming a committee, an environmental
review, action plan, monitoring and evaluation, curriculum work, involving and
informing and establishing a green code.

Green – Schools at Clonkeen
The committee is made up of 12 students from various year groups. Ms.
Nolan, Ms. Reynolds and Ms. Mulville are the co-ordinating teachers. We meet every Monday at lunch time. It is a voluntary programme. The school has been awarded two flags to date: Litter and Energy.

Energy Flag success
For two years the committee worked to achieve the Energy flag. We were involved in many projects to raise awareness in our school. At the beginning of the school year we created an action plan and looked at areas where we could save energy and
raise awareness amongst the student body. We created switch off the light's logos
for every classroom, a green school's motto for Clonkeen, held a low energy day,
carried out surveys with our peers, attended climate change seminars and a student march outside Dáil Éireann. We ran various competitions in school and
awarded prizes for poster competitions, tutor quizzes and energy riddle competitions.
The Green School Committee sent home energy pledges to all first years to ensure they were trying to save energy both at home and at school. An energy awareness week was also held in April 2018.

Along with all our work on energy we sustained work on our litter theme, bin signs were created for all bins around the school, we ran a cleanest locker area competition and monitored general litter around the school. Over the next two years the committee will be working on the Water theme. We aim to raise awareness about water management, pollution and sustainability.