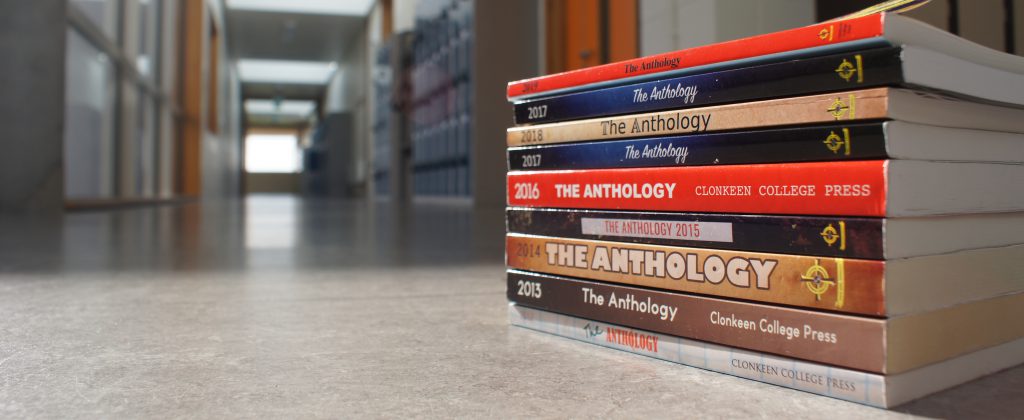 ---
Visit the dedicated Clonkeen College Press website, run by the CCP team!
www.clonkeencollegepress.com
The Anthology
Clonkeen College Press is a Transition Year project. It was set-up in the 2012-13 academic year with the aim of creating a space for students to write creatively and, ultimately, to produce and publish an annual collection of student writing. This has now become what we all call THE ANTHOLOGY. We publish this collection of student writing each April.
This year, 2019-2020, sees the launch of the Clonkeen College Press website and we hope you enjoy the new ways in which it will allow us to promote our young writers in Clonkeen. Of course, we are always open to supporting and publishing students from other schools too and would encourage students from other schools to send us their writing if they would like to see it published. We hope this will also feed into THE ANTHOLOGY publication each may, as well as acting as a more interactive writing space for students.
Since its inception, Clonkeen College Press has increasingly become the work of the students themselves – they write, edit, design the cover for THE ANTHOLOGY, produce promotional posters, layout out the book, price it, market it and sell it. Now, they have also designed the new website and continue to manage it.
We would like to thank everyone in our community – students, teachers, our admin staff, school managers, parents, sisters, brothers, friends, grandparents, uncles, aunties, and everyone in between – for their continued support.
We would also like to thank former Clonkeen College student, James Brennan, at The Smart Group, who continues to sponsor our efforts to promote and sell THE ANTHOLOGY each year.
If you have any questions regarding either Clonkeen College Press or THE ANTHOLOGY SERIES, you can email ccp@clonkeencollege.ie
---
THE ANTHOLOGY COLLECTION
---
" The Anthology Project is sponsored by The Smart Group through the association of James Brennan, Clonkeen College alumnus."

James Brennan
Print Sales & Marketing Manager
M: +353 (0)87 647 4377
T: +353 (0)1 450 9347
E: james@thesmartgroup.ie